PLEASE NOTE - Team Thumbs Up are extensively qualfied and experienced in the field they work in. We will willingly provide further information for each member of Team Thumbs Up upon request. If we do not deem that we are able to meet your requirements, we will of course help to point you in the direction of somebody that maybe able to provide support. Team Thumbs Up are all DBS checked.
Sue Mason
Positions held: Managing Director and Lead Faciliator
About me:- "I have always said that I have the best job in the world, even despite the first lockdown trying us somewhta! But even when I have one of 'those days', going into one of our lovely schools (or seeing them 'virtually') and seeing the enthusiasm of the children and those smiley faces lifts me like nothing else. Since I began Thumbs Up, we have presented to many schools throughout Wirral, Liverpool, Cheshire and Wolverhampton; every time a new school comes 'on board', I get such excitement from meeting new children and being inspired once more. As a company I will continue to evolve Thumbs Up as we work in new schools, meet new teachers, parents/carers and children, I will continue to learn from them – which I do every single time I work in a new school and I will ensure that Thumbs Up continues to offer that 'personal touch' that has been so successful with the company thus far. In my spare time I love to spend time with my wife, daughter and son (and our gorgeous cocker spaniel Louis), I also like to read, spend time with good friends, going on holiday - especially in our motorhome - 'Freda', cycling (on an electric bike!) and love nothing more than getting stuck into a really good box set on Netflix…and of course preparing for more sessions with Thumbs Up (does that make me boring?!!!). I am so excited to see what the future holds for Thumbs Up...watch this space"
Fun fact about Sue:- "I love music and love to dance and sing, but can't do either very well…but I don't let that stop me. Often can be seen in my Thumbs Up van belting out a tune or two. Have recently become an 'AFOL'...an 'adult fan of lego', I find it incredibly calming'.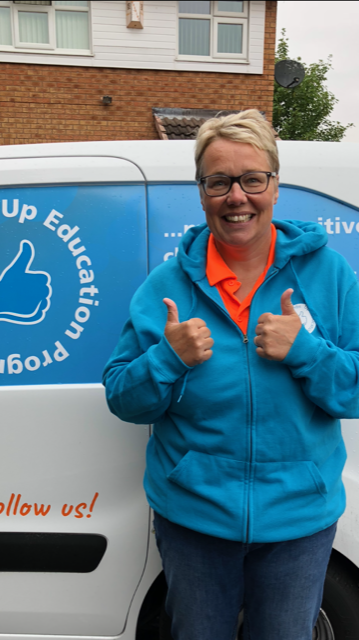 Cathy Morphy-Morris
Position held: Lead Faciliator and Co Facilitator
"I so happy to have joined Thumbs Up as a facilitator and have been working with Thumbs Up since September 2017. I bring a lot of experience of working with children to the programme, having been a dance and drama teacher for many years, I also do a little bit of singing teaching too. I have enjoyed my few months working with Thumbs Up immensely and have adored meeting the most inspiring children, and can't wait to see how the coming months and beyond will progress with new schools coming along all the time. In my spare time I sing with three bands – mainly in Wirral which I enjoy very much and spending time with my husband, daughter and son. With my drama experience, I am hoping to bring some exciting new role play activities to Thumbs Up and use this to elevate the levels of confidence and self-esteem in the children. I love nothing better than having a really good laugh and I am sure this fun side of me will enhance the Thumbs Up ethos of the children learning through a fun delivery of the programme and the children learning well if they are feeling happy and positive."
Fun fact about Cath:- "I have appeared as an extra in Coronation Street, Emmerdale and Hollyoaks!"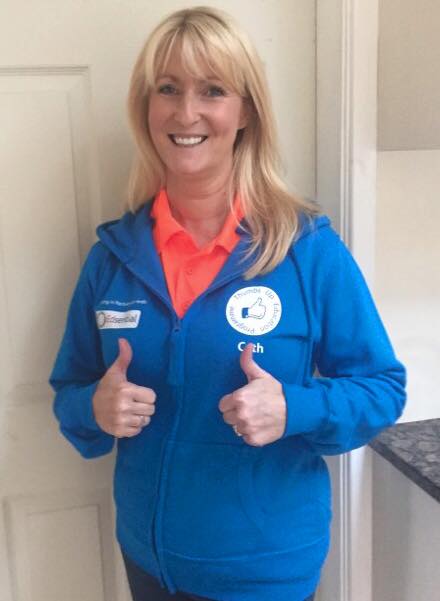 Steph Bates
Position held: Co Facilitator and one to one provider for children with more complex needs
"I have worked with children for many years and schools and nurseries, and as one to one support for children with Special Educational Needs and Disabilities. I have a degree in Childhood and Youth studies, and as part of my studies, I chose to write a research paper investigating the provision available to support the mental health of children in primary schools. Sue kindly agreed to help me by allowing me to observe some of the Thumbs Up sessions.
I was so inspired and excited by the work that Thumbs Up are doing within our schools and I am thrilled to now be a part of the team. I feel that the increasing pressures on young people and the rise in mental health issues makes Thumbs Up an invaluable resource to empower and support children, staff and families, and I hope to be able to use my knowledge and experience to contribute to this thoroughly rewarding role.
My particular areas of interest are the work of Carol Dweck on growth mindsets, mindfulness and the impact of autism of the mental health of children and I hope to explore these areas further as I continue my studies with a Masters in Child and Family Psychology.
I have two daughters aged eight and 11, who motivate and inspire me every day, so I find the age of child that Thumbs Up is aimed towards very relatable and understand the challenges that can be faced during these formative years.
In my spare time I love to spend family time swimming, cycling, ice skating, visiting our favourite places and watching Liverpool FC!"
Fun facts about Steph:- "When I was at school I wanted to be a nurse until I did a week of work experience at Arrowe Park Hospital and fainted six times! I also used to take part in Latin American and Ballroom dancing competitions.